Overview
In the U.S. and around the world, people are not getting access to the specialty care they need, when they need it, for complex and treatable conditions.
Project ECHO® is a movement to demonopolize knowledge and amplify local capacity to provide best practice care for underserved people all over the world. The ECHO® model is committed to addressing the needs of the most vulnerable populations by equipping communities with the right knowledge, at the right place, at the right time. Project ECHO® trains and mentors primary care teams in the care of patients with complex conditions.
The ECHO® model is based on the principle of demonopolizing medical knowledge, with specialists sharing their expertise and providing telementorship and guided practice to help primary care teams to deliver high-quality specialized care to patients in their own communities. It is a distance education model in which specialists located at a "hub" connect via simultaneous video link with numerous community-based primary care teams (the "spokes") for the purpose of facilitating case-based learning. Developed by Dr. Sanjeev Arora at the University of New Mexico Health Sciences Center in Albuquerque to better serve patients with Hepatitis C, Project ECHO® has rapidly expanded and is currently used to address more than 55 complex health conditions all over the world.
Moving knowledge, not patients
Through technology-enabled collaborative learning, ECHO® creates access to high-quality speciality care in local communities.
Hub and spoke knowledge-sharing networks create a learning loop:
Community providers learn from specialists.
Community providers learn from each other.
Specialists learn from community providers as best practices emerge.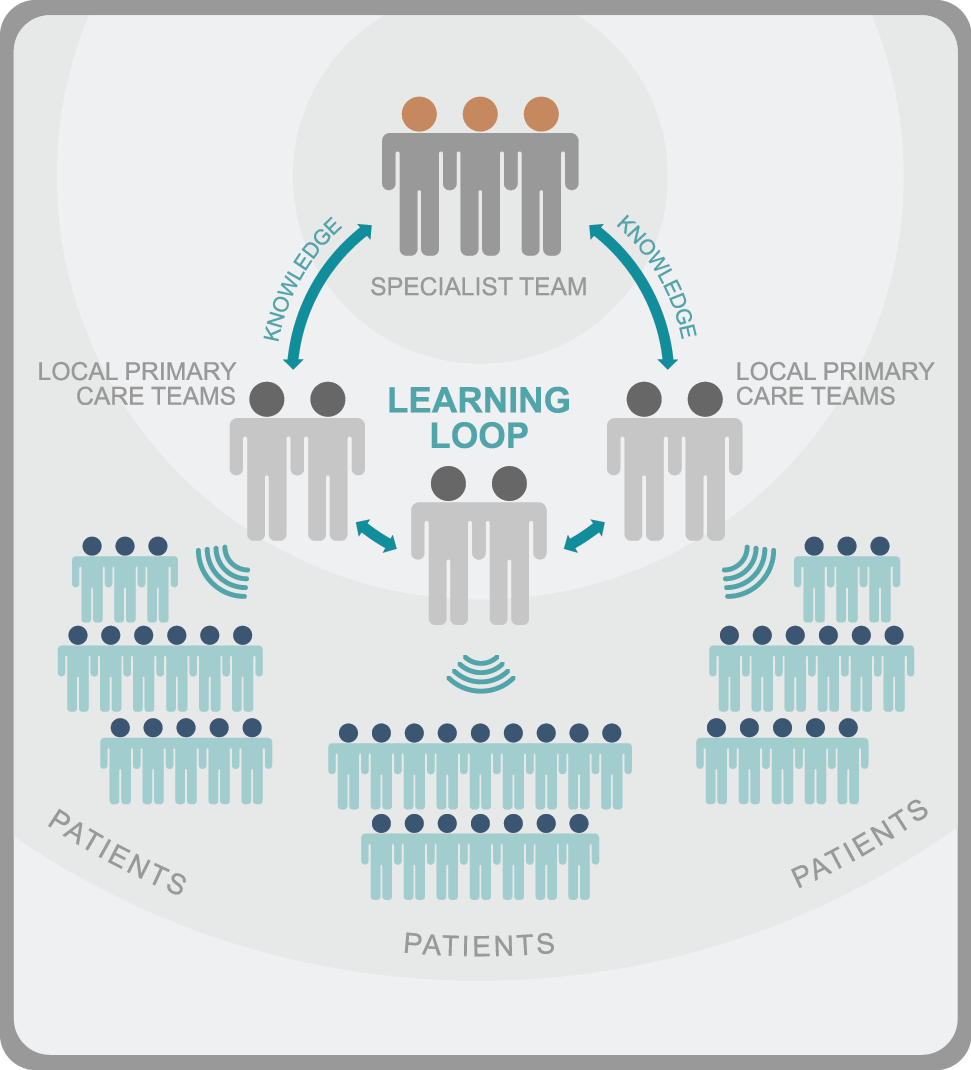 What takes place during a teleECHO® clinic?
Participants (spokes) join the teleECHO® clinic from desktop or mobile devices using free videoconferencing software Zoom.
Member of hub team presents brief didactic lecture on subject related to overall theme of ECHO® clinic.
Case Presentations, Discussions, and Recommendations:

2-3 clinic participants present real de-identified patient cases to get feedback from other teleECHO® participants, as well as specialists on the hub team. A written summary of recommendations is created for each case by the ECHO® hub team and provided to the presenting participant.

Participants are eligible for free CME, CE or CEU credit by completing a brief questionnaire at the conclusion of each teleECHO® clinic.